FIRE LEVEL 1 – Apply Fire Fighting Techniques (252250)
Learners equipped with this Level 1 skill will be capable of identifying, containing, preventing and extinguishing different types of fires by operating basic fire-fighting equipment.
Duration: 1-day, face to face.
Credit & Non-Credit Bearing Options
SETA accredited and  DEL (Department Of Employment and Labour) options.
Certificate Validity Period
3 years for the SETA POE credit-bearing course option.
Covid-19 Protocols As Directed
COVID-19 protocols and regulatory compliances are strictly observed and included in the training methodology and outcomes.
TO VIEW OUR BROCHURE INCLUDING OUTCOMES OF THIS COURSE, click here.
TO VIEW SAQA UNIT STANDARD FOR SETA CREDITS (SOR), click here
CONTACT US FOR SPECIAL PRICES ON BOOKINGS OF 5 OR MORE  – training@rhenstraininginstitute.co.za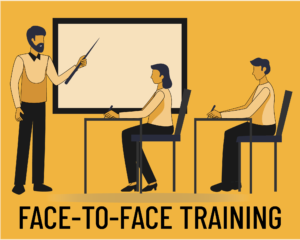 Fire Legislation & Compliances For Workplaces
The Safety, Health and Environmental Regulations, Section 5.2 compels all companies to have trained, accredited fire-fighters in the workplace*. The legislation stipulates that at least 1 out of 50 employees in an organisation must be trained in Fire Level 1 accredited fire – fighting skills.
Damages and loss of lives in business and in communities amount to millions of rands annually ranging from lives to buildings, stock and other assets eg vehicles,  disruption to production and sales due to temporary or permanent shut down of operations, revenue loss, loss of life of staff, cl;ients and visitors for which a company and its CEO can be held liable if legislative compliance to have basic Fire-Fighters as part of a health and safety committee with valid, current certificates in the workplace.
Our firefighting courses are SETA and DEL accredited to comply with OHSA Fire-Fighters in workplace legislation, can be applied at work and in communities where people live in case of a fire, whilst waiting for the essential qualified medical emergency services to arrive.
The outcomes include that delegates will understand fire safety, fire prevention, good housekeeping, and how to correctly manage a firefighting emergency, all theory and how to extinguish a real fire, physically.
Attending a firefighting course will assist with health and safety compliance and it empowers learners with the competence to extinguish fires before it rages out of control.  The firefighting courses are fully accredited by the FP&M Seta and the DOEL and facilitated by accredited and certified professional training provider.
Training Methodology and Philosophy
A foundation of mentorship, raising awareness, respect and vigilance for health, safety, security and protection of spaces and places where people live, work, meet and gather.
Latest Remote-Work-From-Home & COVID-19 Directives Impacting Employees Safety
It is highly recommended that employers ensure that all staff who work off – site are trained in first-responder  eg. First Aid & Fire-Fighting Level 1 as a minimum, in case of an injury 'on duty' in the absence of 'traditional, on-site first responders' when medical emergencies arise out of office.  This recommendation is supported by the ILO's 'An employers' guide on working from home in response to the outbreak of COVID-19′ (for quick reference to health and safety for remote workers, refer to page 19,20 and 21 ).
Target Market
Besides first responders in the workplace, the course is also highly recommended as part of a H&S career-choice and entrepreneurship model for unemployed youth, women, community volunteer-NGO workers and anyone interested in health, safety, and saving lives.
Donate To Fund Skills Development To Uplift Poorer Communities (A CSI-Spend Model For Companies) 
Disclaimer and Terms & Conditions